EUR/USD plunges, Russia tightens pressure on Europe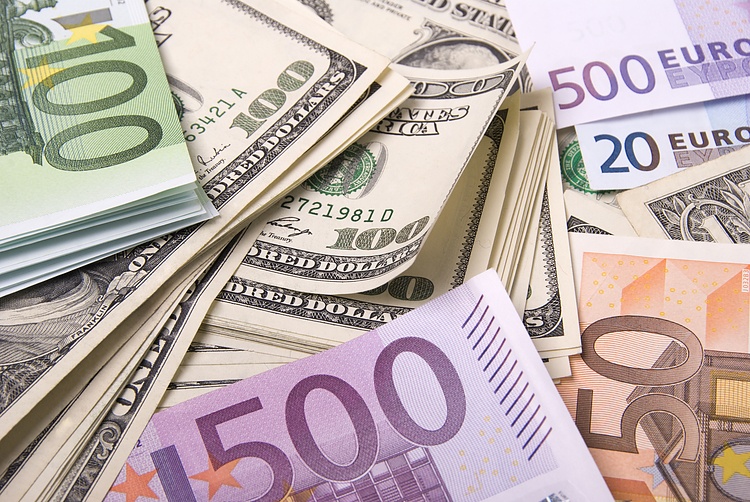 Summary: The euro plunged 1.03% against the greenback to 1.0118 (1.0205) and fell against other currency pairs as Russia tightened pressure on EU countries. According to a German report, Russian gas giant Gazprom has started supplying 20% ​​of its usual natural gas supply. Data released yesterday also saw Germany's IFO Business Sentiment for July dip to 88.6 from 92.2. The Euro-Swiss pair (EUR/CHF), a gauge of market sentiment, plunged 1.17% to 0.9744 from 0.9820. Across the Atlantic, US bond market yields continued to reverse. Normally a sign of an impending recession, the yield on the 2-year US Treasuries stood at 3.05% while the 10-year note closed with a rate of 2.81%. A measure of the greenback's value against a basket of 6 major peers, the Dollar Index (USD/DXY) climbed 0.70% to 107.22 (106.55). The euro weighs 57.6% in the composition of the Dollar Index. Against the Japanese yen, the US dollar (USD/JPY) rebounded to 136.95 from 136.05 on Monday. The Australian Dollar (AUD/USD) slipped to 0.6937 from 0.6970 while the Kiwi (NZD/USD) was last at 0.6230 (0.6253). The British pound (GBP/USD) fell slightly to 1.2032 from 1.2080. The dollar closed higher against Asian and emerging market currencies. USD/CNH (US Dollar-Chinese Offshore Yuan) rose from 6.7580 to 6.7665 while USD/SGD (US Dollar-Singapore Dollar) rebounded to 1.3895 (1.3877). Wall Street stocks eased in late trading leading up to tomorrow's Fed meeting. The DOW closed at 31,810 (31,920 Monday) while the S&P 500 was last at 3,936 versus 3,962. Other global bond yields fell. The 10-year German Bund rate stood at 0.92% (1.02%). The UK 10-year gilt yield last stood at 1.91% from 1.93% while the Japanese 10-year JGB yield ended at 0.19% (0.20% yesterday) .
Data released yesterday saw the Dallas Fed US Manufacturing Index in July slump to -22.6 from -17.7 previously, missing the forecast at -12.5. Germany's IFO Business Sentiment in July dipped to 88.6 from 92.2 previously, below the economist's estimate of 90.5. German IFO expectations in July fell to 80.3 from 85.5, missing median forecast at 83. US Conference Board consumer confidence in July fell to 95.7 from 98.4, missing the economist's forecast at 97.3. The Richmond manufacturing index in the United States fell from -11 to 0, beating estimates at -13.
EUR/USD – Sliding, the common currency reversed its gains, plunging against the greenback to 1.0118 from 1.0205 on Monday. Germany's weaker-than-expected IFO business climate and a report that Russia has tightened its gas squeeze on Europe weighed heavily. The overnight low was at 1.0108. The euro was also lower against other currencies.
USD/JPY – Against the Japanese Yen, the US Dollar rebounded from its overnight low of 136.27 vs. 136.95 (136.05 Monday). The rally in the US 10-year bond yield to 2.81% from 2.75% supported the greenback. Overnight, USD/JPY hit a high of 136.95. As in previous sessions, trading was volatile.
AUD/USD – The Aussie Battler fell against the US Dollar, settling at 0.6937 from 0.6970 on Monday. The overnight low traded for the AUD/USD pair was 0.6922 while the overnight high recorded was 0.6983. Today sees the release of the Australian Q2 Headline and Trimmed Mean CPI report.
GBP/USD – The British Pound fell slightly to 1.2032 from 1.2080, weighed by a weaker Euro as well as broad-based USD strength. Overnight, the GBP/USD pair traded as high as 1.2090. The lowest overnight trade recorded was at 1.1964. British politics continued to weigh on Sterling as the hunt for Britain's next prime minister intensifies following the resignation of Boris Johnson. The Bank of England will meet on its interest rate policy next week.
On the lookout: Today's economic calendar picks up speed and begins with Australia's Q2 CPI (q/qf/c 1.8% vs. previous 2.1%, y/yf/c 6.2% vs. at 5.1%), followed by the Australian CPI Q2 Trimmed Means (q/q 1.5% from 1.4%; y/yf/c 4.7% from 3.7%). Japan follows with its leading economic indicators for May (no f/c, previous was 101.4), Japan's coincident May index (no/f/c, previous was 95.5). Germany kicks off the European data with its August consumer confidence survey (f/c -28.9 vs -27.4 previous. France follows with the release of its July consumer confidence (f /c 80 vs. previous 82. Switzerland then follows with its July ZEW Expectations Survey (f/c -81.6 vs. -72.7). June Durables (f/c -0.4% vs -0.8% – FX Street), US Core Durable Goods Orders (ex-transportation) (f/cc 0.2% vs 0.7 % – FX Street), preliminary U.S. goods trade balance in June (f/c – $103.2bn vs. -$104.38bn prior – Forex Factory), home sales pending June in the US (m/mf/c -2% vs previous 0.7%; y/yf/c -7.3% vs previous -13.6% – FX Street) July – Thursday ) The FOMC press conference follows.
Business perspective: Last night's FX result was more of a euro move than anything else. The US dollar gained on this. However, against other major currencies, the greenback's rally was moderate. The focus remains on the common currency as it resumes its slide towards parity. Across the Atlantic, all eyes are on the Federal Reserve. Rising expectations of a 75 basis point rate hike supported the dollar at current levels. Meanwhile, economic data releases, particularly from the United States, have signaled that its economy is weakening. The sharp drop in consumer confidence from the Conference Board of the United States was the third consecutive drop, and it was steep, falling from 98.4 to 95.7. New home sales in America fell in June much more than expected (see today's summary). As the yield on 10-year US Treasuries rebounded to 2.81% from 2.75% yesterday, the US yield curve remained inverted.
A 0.75bp hike from the Fed is widely expected and would see the US Dollar outperform its peers. We would need a 1% rate hike from the Fed to propel the greenback to higher ground. The only certainty for today is the increased volatility of all currency pairs. Keep those pewter helmets.
EUR/USD – All eyes are on the common currency with parity back in the sights of traders. The overnight low traded for the Euro was at 1.0108 with the close not far above (1.0118). Ahead of the FOMC meeting (early Sydney tomorrow morning), expect EUR/USD to consolidate. Immediate support is at 1.0100 followed by 1.0070 and 1.0040. At the top, look for immediate resistance at 1.0150, 1.0180 and 1.2010. Look for another choppy session in this currency pair, likely between 1.0070 and 1.0220. Prefer to sell rallies, the market has parity in its sights.
(Source: Finlogix.com)
AUD/USD – The Aussie Battler edged lower to close at 0.6937 vs. 0.6970 against an overall stronger greenback and lower risk appetite. Falling copper prices overnight also weighed on the Australian dollar. Immediate support for AUD/USD stands at 0.6920 (overnight low was 0.6922) followed by 0.6890 and 0.6860. Immediate resistance is found at 0.6970, 0.7000 and 0.7030. Look for another choppy ride on this pup, probably between 0.6900 and 0.7000. Trade in the range, nice and wide.
USD/JPY – The greenback rallied against the Japanese yen to 136.95 from 136.05 on Monday and 136.45 yesterday. For today look for immediate resistance at 137.30, 137.60 and 137.90. Immediate support stands at 136.60, 136.30 and 136.00. Looking to trade a likely, albeit choppy, range of 136.30 to 137.10.
GBP/USD – The pound fell slightly to 1.2032 from 1.2080 yesterday. Overnight, the British pound traded as low as 1.1964. For today, look for immediate support at 1.2000, 1.1970 and 1.1940. Immediate resistance can be found at 1.2060, 1.2090 and 1.2120. Look for another roller coaster ride in this currency pair, probably between 1.1980 and 1.2080. The preference is to sell rallies.