Local Missouri River Events Return 2022 | Community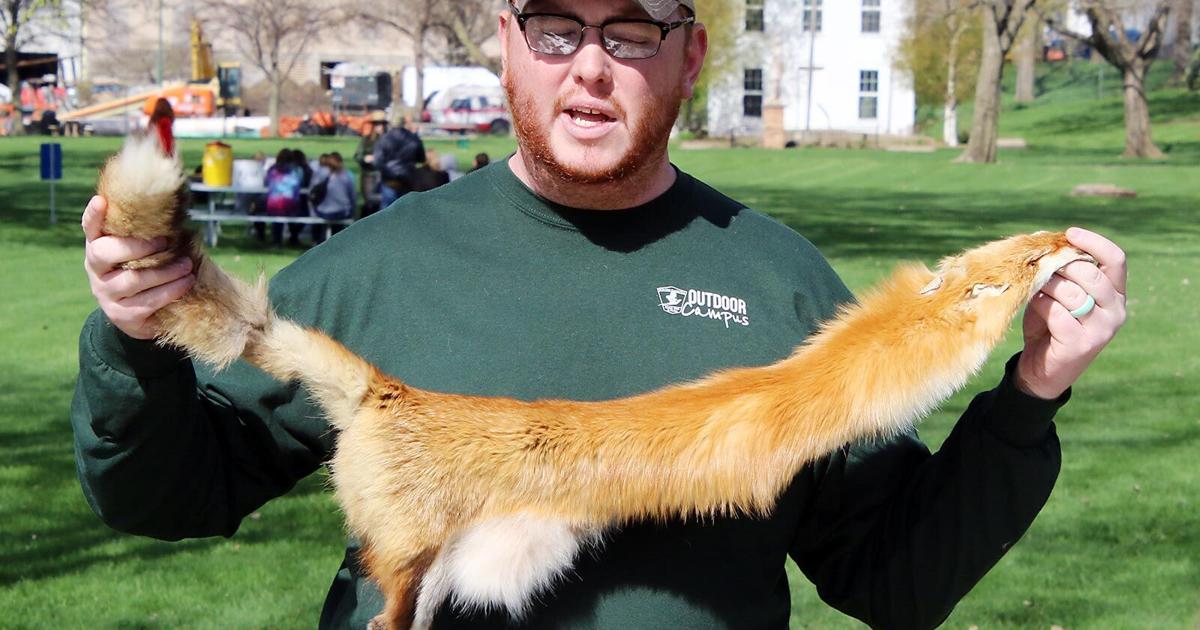 In recent years, events on the Missouri River have run into choppy waters.
The Missouri River Clean-Up was last held in 2017, and the Missouri River Watershed Education Festival was last held in 2019, according to National Park Service (NPS) Ranger Dugan Smith.
"We haven't had a festival or cleanup for the past two years due to the pandemic. We wanted to protect people," he said. "And we haven't had a cleanup in the previous two years due to high flows of over 50,000 cfs (cubic feet per second) from the Gavins Point Dam. We just couldn't get people on the water.
But times have changed for the better and events are returning, Smith said. The School Festival is scheduled for May 5, the River Cleanup on May 7, and the combined Yankton Lake Festival and Farm Day on June 11.
"We're back and we want people to know that," he said. "We're spreading the word and people are really excited to have these things again. I think we could have even better numbers than before the pandemic.
Organizers continued their planning each year despite the uncertainty that ultimately led to the cancellation. Now the fans are ready to take the events to a new level.
This year's school festival returns to Riverside Park in Yankton with numbers similar to pre-pandemic levels, according to committee member Mary Robb.
"The schools are so loyal to us and are really happy to come back. We get many of the same schools, but also new ones, from a wide area," she said. "We have limited this year's number to 350 students due to COVID, and we are at 328. We are not going to take any more schools so we don't exceed our target."
This year's participants include students in grades 7 through 11 from Yankton Middle School, St. Rose of Lima School in Crofton, Nebraska; Cedar Catholic Junior/Senior High School in Hartington; Laurel-Concord/Coleridge (Nebraska) and Central Andes.
The school festival will feature 20 presentations at 21 sites (one agency will operate two aquariums). Each group of students will spend 15-18 minutes at each stop before moving on to the next. Due to COVID, students from each school will stay together rather than mingling with others.
The festival will again feature a wide variety of environmental, historical and cultural topics, according to Paul Lepisto of the Izaak Walton League of America.
"We have 18 out of 20 presentations that come back to the past, either the agency or the people themselves," he said. "When we contacted them this year, they rushed over and said, 'I want to come back and have something to do with this. It is one of the most enjoyable events of the year. I think that says a lot about what people see as the value of these events.
The festival plays a crucial role in reaching the younger generation, Lepisto said.
"We encourage hands-on presentations, and the kids have so many opportunities to interact. They learn something they don't know," he said. "We know we can't serve a seven-course meal in seven 20-minute presentations, but we expose them to a lot of different things."
For example, one year a presenter put stickers all over a boat depicting zebra mussels and challenged the students to find all the stickers. When they were done, the facilitators showed them all the places they had missed and how the mussels stay hidden.
A festival tradition will return, Smith said. "We are going to organize the 'Kiss The Fish' contest. The kids love it and keep asking every year if we'll get it," he said.
After the extended absence, Smith said he was worried about this year's river cleanup. The project extends along both banks, from Gavins Point Dam to Riverside Park. Boats transport volunteers along the river and transport waste to a collection point for recycling or disposal.
"We usually have 100 to 115 volunteers, and I hope we will have even more this year. It's great that people want a clean river for recreation and other uses. They want to come out and be part of the effort," he said.
"If we don't for a few years, there's no doubt we're going to find a lot of stuff. And with very low water levels this year, you have so much more exposed shoreline.
Over the years, the cleanup has recovered golf clubs, bowling balls and pins, prams, shopping carts and even hot tubs, water heaters and propane tanks. Tires are another common find along the banks.
In addition to collecting tons of debris, the cleanup gives people the chance to get out on the water in ways they wouldn't otherwise, Smith said. The cleanup also fosters a sense of belonging and responsibility to the river, he said.
"People really care about the river and keep coming back to it," he said. "I hope we will have more volunteers than in a normal year because it's the first opportunity to go out in years. I've had a few companies approach me wanting to do this. I think once we start promoting it, we'll start to see more people and that kind of scale.
The cleanup encouraged all kinds of participants, from singles and families to youth organizations and businesses, Robb said.
This year's events will provide a new experience for most Missouri National Recreational River (MNRR) staff in Yankton, Lepisto said.
"MNRR staff are almost entirely new and they are very excited to be part of the festival and other activities," he said. "It's a great time for people working on these events to get to know each other and each other."
Volunteers led the "clean boat" awareness campaign each year. Crews informed boaters about invasive species such as the zebra mussel. While the snail has now entered Lewis and Clark lakes, effort remains to prevent its spread to other water bodies.
The effort has expanded to include invasive plants, invasive species and a hybrid approach that includes the two, Lepisto said.
"One year we met over 1,700 people from 13 or 14 states," he said. "But now we are doing the clean boat effort differently. We only did it on weekends. Now the National Park Service will be running it throughout the summer as part of an overall outreach effort.
YANKTON LAKE FESTIVAL, FARM DAY
This year also marks the full return of the Lake Yankton Festival and Homestead Day, co-hosted June 11, according to Nancy Teachout with the Lewis and Clark Recreation Area. Events take place in the same area from 10 a.m. to 1 p.m.
"These are family events. There is no charge to participate in Lake Yankton events," she said. "A park pass is required for Homestead Day, but we are working on a permit so the first 50 cars can enter for free."
Organizers work with certified master naturalists, Teachout said. The first course last fall was well attended, and this year 60 people from across the state are taking the 10-week course, she said.
Master naturalists are required to complete volunteer hours, which could include the school festival, Teachout said. A number of naturalists live in the Lewis and Clark lakes area, she said, all of whom have been background checked and most of whom are interested in environmental education.
"We hope that by inviting them to volunteer at the school festival and work with students, they will become presenters," she said. "We can increase our offerings at all events."
The Yankton Lake Festival and Farm Day provide an introduction to Ribfest held this afternoon and evening in downtown Yankton, Teachout said. "We both chose the same date. Rather than competing, we work together," she said.
These partnerships play an important role in attracting more people to Yankton for a longer stay and learning about what the area has to offer, said Tourism Director Jay Gravholt of the Yankton Thrive Organization.
"The river is the lifeblood of Yankton, and we identify as a Missouri River city," he said. "We have a lot of big events, and I think it's vital for the community to do those (partnerships)."
The pandemic has motivated people to explore the outdoors, Teachout said. Additionally, parks, campsites and attractions in South Dakota have remained more open than other states.
"Families found new things to do and more ways to connect," she said. "People used to flock here before, and they keep coming back."
Gravholt sees long-term benefits from the return of this year's events. "I think it fosters a healthy respect for the river and what it offers," he said.
The Missouri River remains a national treasure, Lepisto said. "We want the public to come out and enjoy this wonderful place where we live," he said.
For more information about the river cleanup, email [email protected] or call (605) 665-0209 ext. 28.
Follow @RDockendorf on Twitter.