NextEra Stock: No, clean green energy is not dead (NYSE:NEE)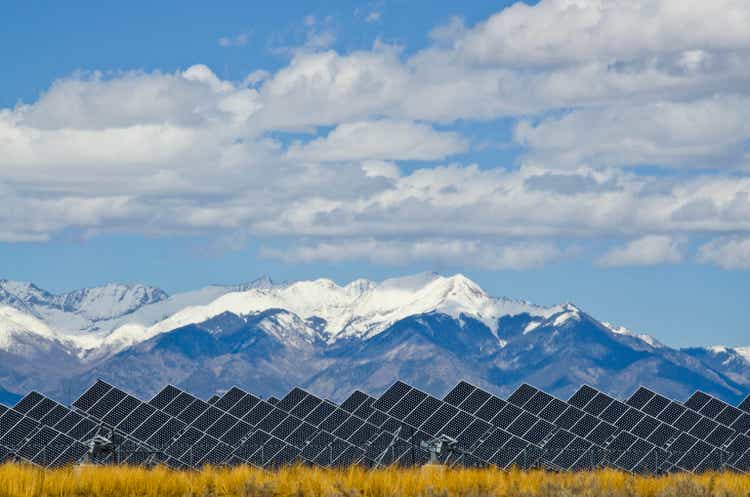 As I mentioned in the bullet points, NextEra Energy (NYSE:NEE) has used solar and wind technology to grow from a relatively unknown entity into the largest utility company – by far – in the United States (current market cap = $169 billion). Company Total returns over the past decade have blown the S&P500 (see chart below) and the future looks bright despite the current narrative that the world must somehow return to fossil fuels. The truth is that the world currently needs both fossil fuels (especially natural gas) and renewable energy. But there is no doubt that capital will continue to flow and the transition to clean energy will continue, both in the United States and around the world. That being said, NextEra, with its extensive experience and project management skills in the field of renewable energy, will continue to be a leader for many years to come.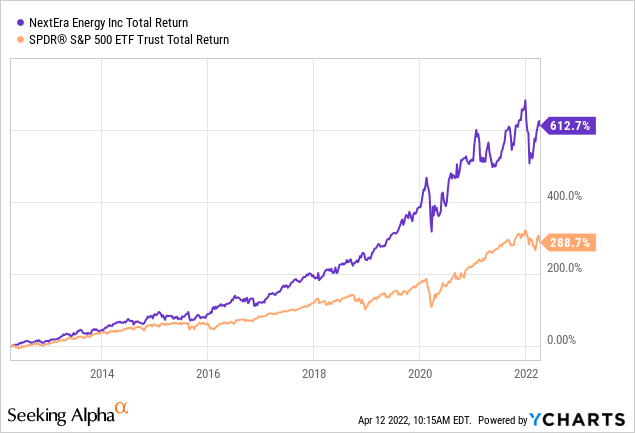 Investment thesis
As shown in the graph below, renewable energy solar and wind technologies will continue the growth trend of recent years and together account for the vast majority (63%) of estimated incremental electricity generation additions in the United States in 2022: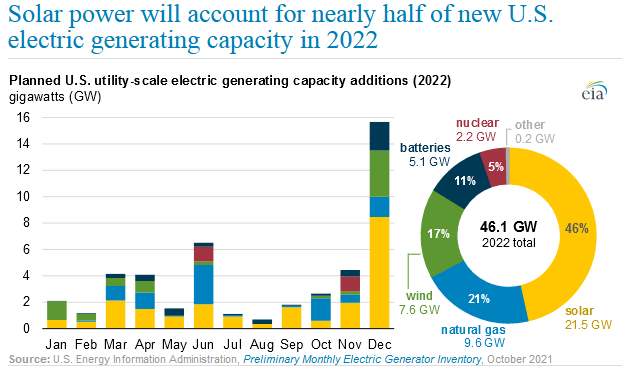 Indeed, as coal-fired power plants have been shut down over the past decade, renewables have become the second largest component of electricity generation in the United States – behind natural gas, which in itself is much cleaner than coal (50% less CO2 emissions, 100% less toxic particulate emissions compared to coal, cheaper too).
This demonstrates excellent progress on the clean green energy front and the prospects of renewables becoming the number one source of energy in the United States will likely happen faster than most investors realize: note that the 'EIA also predicts:
By 2030, renewables will collectively overtake natural gas to become the primary source of generation in the United States. Solar electricity generation (which includes photovoltaic ("PV") and thermal technologies and small-scale and large-scale installations) will overtake wind energy by 2040 as the main source of renewable energy production in the USA.
In the meantime, on an anecdotal basis, where I live it currently costs about $10 to charge a 300 mile electric vehicle, while filling an ICE-based car 20 mpg for the equivalent range costs about $60, or about 6 times the cost of the electric vehicle. What I mean is that many consumers who otherwise might not even consider an electric vehicle will probably do so this year. And as they say, once you've driven an EV and enjoyed the quiet, high-powered acceleration of an electric motor vehicle (both for cars and trucks), it's hard not to walk away with a favorable impression. Also note that despite the narrative that EVs are too expensive (likely based solely on Tesla's (TSLA) premium market consideration), Bloomberg reports that given federal subsidies, Ford (F)F -150 "Lightning" EV will actually cost 17% less than the ICE-based F-150. This is very significant given that the F-150 is a $40 billion brand – second only to Apple's iPhone (AAPL).
Now obviously NextEra is not an electric vehicle manufacturer. But it is an electric utility company and the world's largest producer of wind and solar energy. So the point is this: EV adoption in the US has lagged behind that of China and the EU. So, given that NEE's returns over the past decade were so exceptional during that time, imagine what they'll look like when U.S. EV adoption takes off (as well as electricity demand growth corresponding).
Profits and returns to shareholders
In January, NEE posted quarterly EPS of $0.41/share in the fourth quarter, slightly beating consensus estimates of $0.40/share. For fiscal 2021, NEE reported GAAP net income of $1.81/share, compared to $1.48/share for FY20. On a non-GAAP adjusted basis, FY21 earnings were $2.55/share (+10.4% year-on-year).
A month later, NEE declared a 10% increase in quarterly dividend to $0.425/share. This builds on an excellent long-term record of dividend growth for NEE: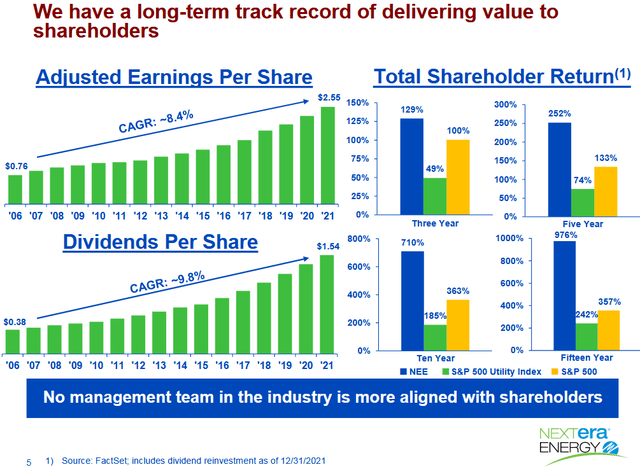 Go forward
NextEra continues to leverage its MLP Florida Power & Light ("FP&L") and NextEra Energy Partners (NEP) vehicles to organically grow its renewables solar and wind energy and natural gas companies. FP&L is one of America's largest and fastest growing utility companies, and NEE has dotted the state with low-cost solar panels, many with battery backup: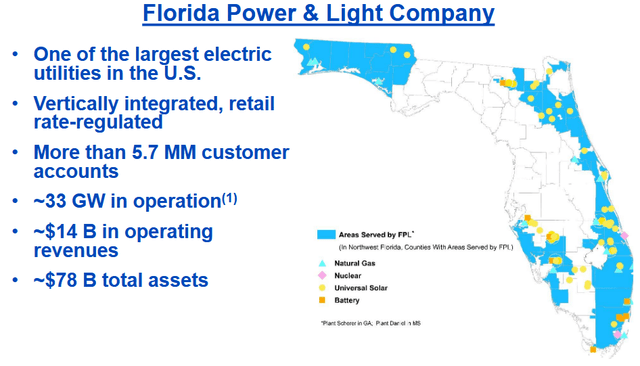 In addition, the company continues its long-term record of transferring low-cost wind and solar assets to its MLP. Note that NEE's supply cost estimates place wind and solar even below that of natural gas, and significantly below that of coal and nuclear: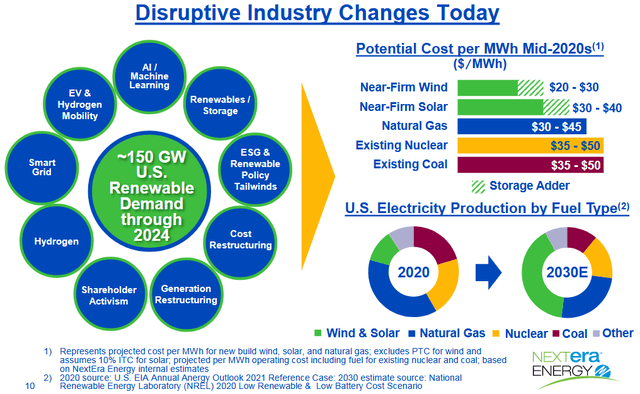 This is the secret sauce that NEE used to disrupt the national utility industry and become the largest utility company in the United States while proving the dire consequences of those utility companies that made big mistakes. strategies by focusing on "coal" and "clean coal" (an oxymoron if ever there was one). Consider reading my Seeking Alpha article on this topic (Trump's First Policy Blunder: "Clean Coal") and note the negative impact Southern Company (SO) Kemper's so-called "clean coal" project has had on its shareholders .
The Mountain Valley Pipeline, in which NEE is a shareholder, recently won FERC approval to change its construction methods, allowing development by drilling under 180 watercourses and wetlands that it must cross to complete the pipeline. The 300-mile MVP project is more than 90% complete, but faced environmental opposition that led to a federal court dismissing its permit to traverse the Jefferson National Forest. NEE recently filed an 8-K revealing that it took an $800 million impairment charge related to MVP. Completion of the 2 Bcf/d MVP would be a pleasant and unexpected upside catalyst.
Evaluation
NEE is currently trading at a forward P/E of 30x, a premium for the market and for the utilities group as a whole – a premium that has been built into the stock over years of outperformance by its utility peers. (and the market) and its record high dividend growth trajectory.
The current annual dividend ($1.70/share) equates to a yield of 2.0% at the current share price of $84.39. However, NEE has never really traded on the basis of the current dividend yield – it trades more on the basis of expectations of strong dividend growth and capital appreciation.
That said, note that the utilities sector as a whole, as measured by the Utilities Sector SPDR ETF (XLU), is currently yielding 2.65%. It's a big disconnect in my opinion. In the meantime, as I noted in my recent Seeking Alpha article on ConEd (ED), the recent rally in utilities is somewhat surprising given the current environment of rising interest rates: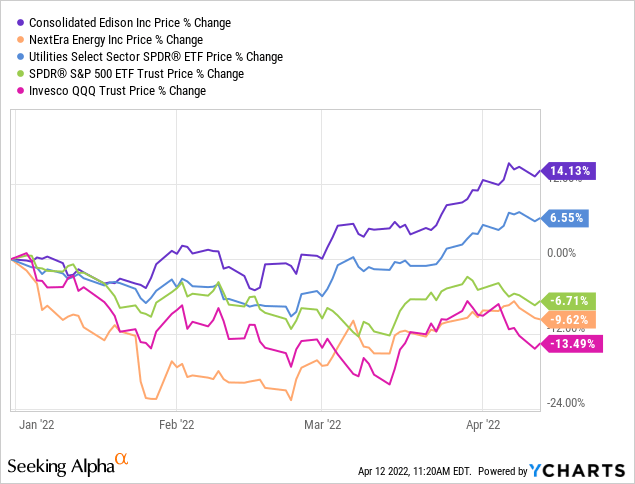 As can be seen from the chart, YTD ConEd and ETF XLU significantly outperformed the S&P500, while NEE lagged significantly behind all three. This is likely because the NEE is seen more as a "growth" stock while it has also likely come under pressure due to the current narrative that fossil fuels are "in" and renewables are "out". . This is a very reckless and short-term prospect given the world government's support for renewable energy and global warming which continues to worsen every year.
My instinct tells me that investors are looking for safe havens given the current market volatility. Investors should use market volatility and try to move towards the NEE over time, buying on market declines.
Risks
All the typical risks apply to the NEE: rising inflation, rising interest rates, massive geopolitical risks from Putin's horrific war of choice in Ukraine – all of which could lead to slower global economic growth , or even a recession, one or the other will likely lead to reduced demand for electricity.
Also note that NEE shares took a hit when CEO Jim Robo recently announced his unexpected retirement. However, new CEO Jim Ketchum has over 18 years of experience at NEE and the company has a wide range of experienced executives. I think the long-term story of NEE remains 100% intact and the market's reaction to a change in CEO position has been quite exaggerated.
Summary and conclusion
NEE has grown from virtually nothing to (by far) America's largest public service. Its FP&L subsidiary is one of the largest, fastest growing and most efficient utility companies in the United States. Meanwhile, the green and clean MLP rollout strategy has blown most (all?) O&G MLPs out of the water when it comes to total shareholder returns. I can see why income-oriented investors may not be impressed with NEE's relatively low dividend yield of 2.0% (ED currently yields 3.3%). In this case, these investors might consider the NEP MLP as the best option. The NEP is currently yielding 3.6%. That said, the investment opportunity for NEE investors is not yield: it is dividend growth and capital appreciation (i.e. total returns).
NEE is a BUY (on market lows) and a long-term HOLD.