So, now and then on nature-based solutions: thinking about COP26 and the way forward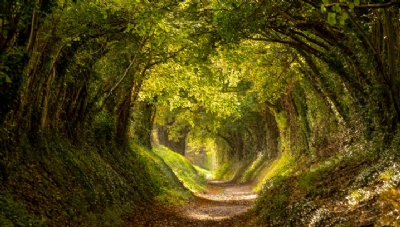 12/14/2021
William Baldwin-Cantello, Director of Nature-Based Solutions at WWF UK, is joined by a host of other biodiversity experts to anticipate the changing market for nature-based solutions.
COP26 was much delayed, long awaited, much slandered and much celebrated.
During the summit chairmanship, the UK government prioritized nature and nature-based solutions (NbS) as its focus. In doing so, it aimed to address both the interrelated climate and biodiversity crises.
Special attention was paid to nature during COP26 as part of formal negotiations and beyond. Businesses and governments around the world seem to be awakening to nature as the most basic form of capital.
But among the wave of government, business and fundraising announcements made at COP26, what does this focus on nature mean for businesses going forward?
Political changes towards nature
The Glasgow Climate Pact – the main decision of the COP – clearly recognizes the role of nature protection, conservation and restoration in meeting the commitments of the Paris Agreement. Earlier versions made specific reference to the NbS, but its absence in the final version is an illustration that political support is not yet unanimous.
The Compact also sets a continued increase in the ambition of Nationally Determined Contributions (NDCs) next year, providing a new opportunity for national plans to expand and improve their inclusion of NbS. There is already momentum in this direction: a WWF Report launched at the COP, found an increase from 82% to 92% in the proportion of CDNs that include nature.
One entry point is through deforestation commitments; 137 countries and counting have signed the Glasgow Leaders' Declaration on Forests and Land Use, committing to "collectively stop and reverse forest loss and land degradation by 2030". A WRI Analysis shows that fulfilling the leader's commitment would save an area of ​​forest the size of Malaysia and avoid the equivalent of a quarter of global greenhouse gas emissions from transport from 2009 to 2018 .
Focus on finances
Achieving these commitments will require a significant shift in finance capital and a wave of funding announcements were made at the World Leaders' Summit, increasing from $ 12 billion pledged by a group of countries over the next 5 years to forests to the Bezos Earth Fund committing $ 2 billion to restore forest landscapes in Africa and transform food systems. The Lowering Emissions by Accelerating Forest Finance (LEAF) Coalition has successfully achieved its goal of pooling $ 1 billion for countries and states that reduce deforestation. The Global EverGreening Alliance and Climate asset management (CAM) announced a $ 150 million nature-based carbon program in Africa.
Two things are encouraging about this. First of all, the scale. It shows that a growing share of climate finance goes to NbS, a long-awaited reflection of their larger share in mitigation potential. Second, it showed a greater role for private donations and the promise of a more coordinated set of initiatives.
These announcements were welcome, but it's not a job done. A recent UN report have shown that a tripling of NbS funding levels is necessary to ensure their full potential. Public sector funding will never cover this amount on its own, private donations are vital, but we will always need to access larger volumes of trade finance. Private sector funding accounts for only 10-30% of total funding for biodiversity, which is generally hampered by lack of knowledge, but also lack of cash flow induced by unfavorable subsidies, lack of usability of data complex and expensive audit programs or challenges with staging business models and scaling them. the Blended finance manual shows how bringing together public and private funding is already helping to mainstream nature investments into the general public.
A main objective of NbS Accelerator within the framework of the HSBC-WRI-WWF Partnership for climate solutions is how to mobilize private funding for NbS. The aforementioned systemic barriers are compounded by the fact that investors remain relatively uninformed about NbS and project developers still do not know how to secure and use commercial investments. Our accelerator will support projects on their path to investment and help resolve the underlying obstacles to more and larger transactions.
Systemic and sectoral changes
As we increase funding for forests and other ecosystems, we must simultaneously open up the space for NbS by addressing pressures on natural ecosystems, especially from the food sector and supported by the financial sector.
Adjusting the way we use land requires complex and difficult conversations between many actors. UK and Indonesia co-chair the FACT dialogue (Forest, Agriculture and Commodities Trade), a notable indication that the governments of producing and consuming countries are moving towards coherent responses that protect forests while supporting sustainable development. While the Glasgow roadmap lacked specific actions, companies have taken welcome action to deal with pressures on nature. Five of Britain's major supermarkets have pledged to halve the impacts on nature and climate of the food they sell by 2030. And more than 30 financial institutions with more than $ 8.7 billion in assets under management engaged to fight against deforestation induced by agricultural raw materials.
Integrity and impact are essential
We know that companies that commit to reducing their emissions through science-based goals can increase their impact by investing in NbS. Protecting the climate, people and nature is not always straightforward, and NbSs have been challenged by some organizations due to their limitations and the potential risks if due diligence is not performed. It is important that those of us involved in promoting, funding or delivering SNB all know that these solutions need to be scaled up and deployed only where and how they enjoy the support and participation of indigenous peoples. and local communities.
This focus on integrity and quality in NbS – both from a demand and supply perspective – is critical and space in business strategy needs to be dedicated to a careful selection of investments.
Progress is being made towards consistent and consensus methods to validate, compare and clarify data to monitor the benefits of NbS interventions. The IUCN Global Standard is a useful guide and there are a growing number of tools available, including the WRI Earth and Carbon Lab, which will facilitate the design, selection and monitoring of projects and allow investors to "see the change" on the ground.
For the future, the climate COP has set a great ambition on the fight against the loss of nature, we must see that at least maintained in the COP on biodiversity in Kunming and the G20, the recognition of net zero will hand in hand with stopping and reversing the loss of nature. Business voices around the world have a big role to play in creating the space to meet this ambition.
Written by William Baldwin-Cantello, Director of Nature-Based Solutions, WWF-UK, Laura Vary, Ph.D., Senior Forestry Program Manager, WRI and Marine de Bazelaire, Natural Capital Group Advisor, HSBC – NbS leads the Climate Solutions Partnership, a five-year collaboration that aims to remove funding barriers for businesses and projects that fight climate change in order to expand them.
WWF
Topics: Climate change
Keywords:
| cop26


Click on a keyword to see more stories on that topic


© Faversham House Ltd 2021. Edie news articles may be copied or transmitted for individual use only. No other reproduction or distribution is permitted without prior written permission.