Wasteshark autonomous drone sucks plastic waste and biomass from water
Drone Wasteshark removes plastic waste and biomass
RanMarine Technology's WasteShark Autonomous Surface Vessel (ASV) vacuums and cleans plastic waste and biomass from bodies of water using drone Technology. Inspired by a shark, the aquatic vehicle-looking vacuum is designed to be deployed with predefined mission routes on the water body chosen by the user. By selecting WasteShark's operating route and predetermining its path, its user covers the region he needs for waste or data collection. Routes can be saved and replayed as often as needed, depending on the user. The ASV drone also uses GPS routes to navigate to desired areas and to return home. A light detection and ranging system can be added to the device to avoid collisions and improve environmental data collection. The company – which specializes in the design and development of industrial ASVs for ports, harbors and other marine and aquatic environments – says WasteShark's design allows it to be efficient, durable, non-threatening and unobtrusive. , with zero greenhouse and carbon emissions that alter climate change and internal clean tech tools used to clean the water. Thanks to this, the versatile waste and data collection ASV can be used in urban, rural, industrial and leisure environments.
WasteShark has a 10 hour swim time, 5km run range and waypoint planning, and it can clear up to 500 pounds of debris per day, run at 3 km/h and for six hours in autonomous mode. The company has installed 4G technology in its ASV with 3km radio-controlled guidance and two trolling motors which it guarantees are fitted with RanMarine's proprietary thruster protection technology. RanMarine Technology's WasteShark is one of many ASVs the company wants to build in the future to remove plastics, bio-waste and other debris from waterways. It says enabling data from its products allows customers to closely monitor the environment and composition of their water in real time, producing an accurate picture of the water's DNA to identify any undue issues. quantified. RanMarine Technology products are also designed to be used manually via an operator ashore or autonomously with online control and access such as WasteShark.
images of RanMarine technology
wasteshark drone clears bodies of water
Three missions are part of RanMarine Technology's philosophy. Through WasteShark, it targets marine litter as a source to remove 500 kilograms of waste per day from all types of waterways. Its compact size makes it portable and can be used safely from virtually anywhere thanks to its self-contained functions. The company says the construction of the WasteShark was deliberately designed to be able to reach areas inaccessible to other vessels and waste recovery units. It's small enough to get into tight spaces where trash typically collects in water, but big enough to make a huge difference in the amount of trash removed, as the company says.
Next is water quality, which has been greatly impacted by human waste and pollution entering water bodies. "As all of our water is connected, it's everyone's problem, which means it's up to all of us to monitor and manage our water quality, starting with our backyards," says the company. To keep tabs on water quality, the company collects data through WasteShark and DataShark, which geotags and timestamps collected data to give an accurate picture of water quality within an ecosystem. This allows everyone to accurately monitor the water quality near their areas to help verify compliance with pollution regulations, identify potential contaminants early to minimize environmental impact and, as the thinks the company, 'make your water safe for everyone to enjoy.'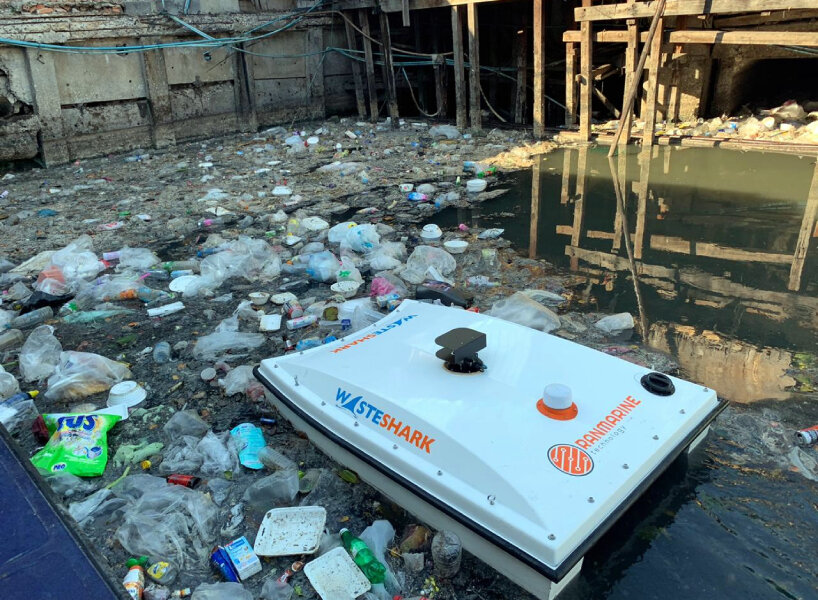 Wasteshark autonomous drone sucks plastic waste and biomass from water
wasteshark drone supports sustainable development goals
The last online mission is dedicated to the removal of biomass from the surface of the water. WasteShark's autonomous technology uses waypoints to guide itself through the water and remove biomass in its path with minimal supervision. The company says WasteShark removes biomass from the surface, which helps preserve nature with minimal disruption, while ensuring that facilities and equipment can continue to operate efficiently and safely. "By monitoring nitrogen accumulation, dissolved oxygen and pH levels, among others, we are able to offer a clear map of what is present in the water body and identify where these problems exist. Likewise, the potential for toxic blue and red algae buildup and blooms can be monitored and addressed," says the company.
RanMarine Technology supports the Sustainable Development Goals on life below water, sustainable cities and communities, clean water and sanitation, climate action, decent work and economic growth. It does its best to be committed to producing environmental, social and economic value by making products that clean up the mess causing a major decline in animal population and the environment and by collecting data to predict health issues. some water. "With 33% of seafood containing plastic and a growing global population, clean water has never been more important to the future of species on our planet," States the company. With WasteShark, it has taken a step forward in updating its mission and vision.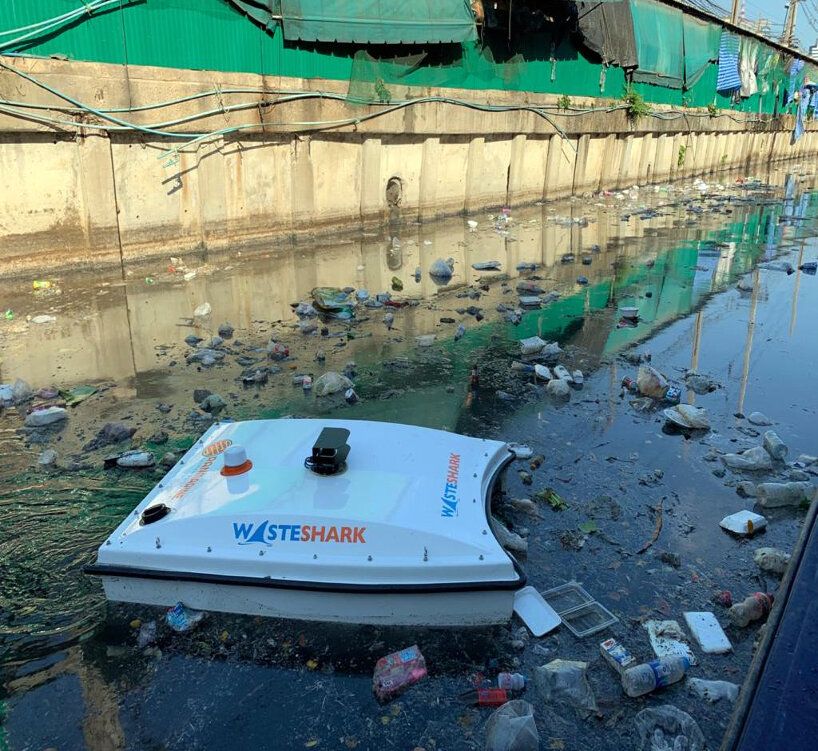 WasteShark in action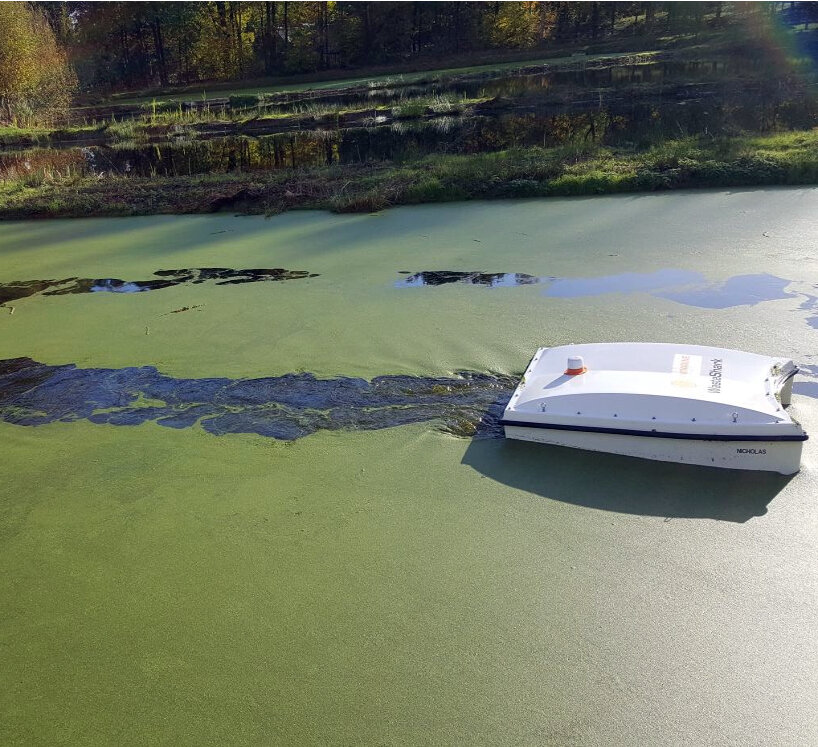 Autonomous Drone Trash Shark Cleans Water Biomass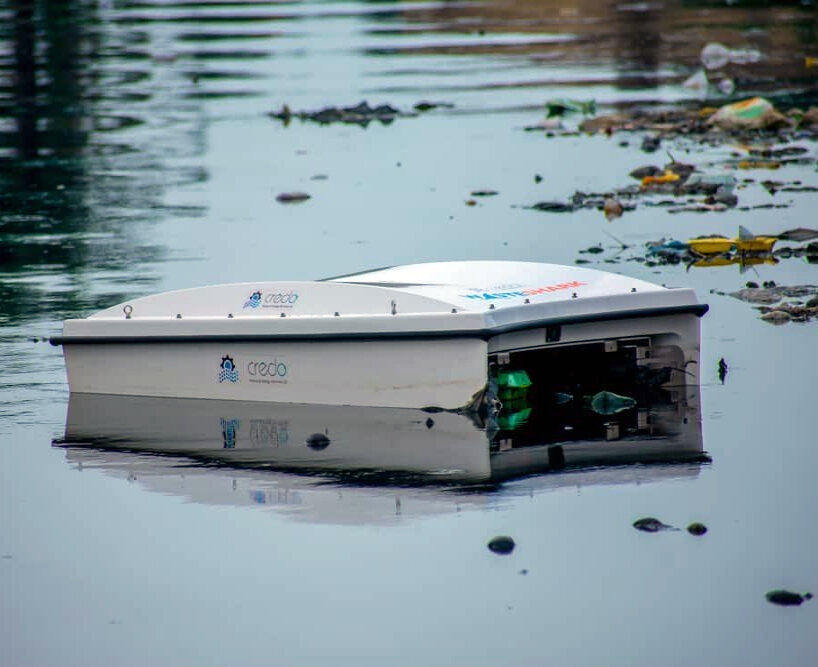 the company installed 4G technology in an autonomous Wasteshark drone

close view